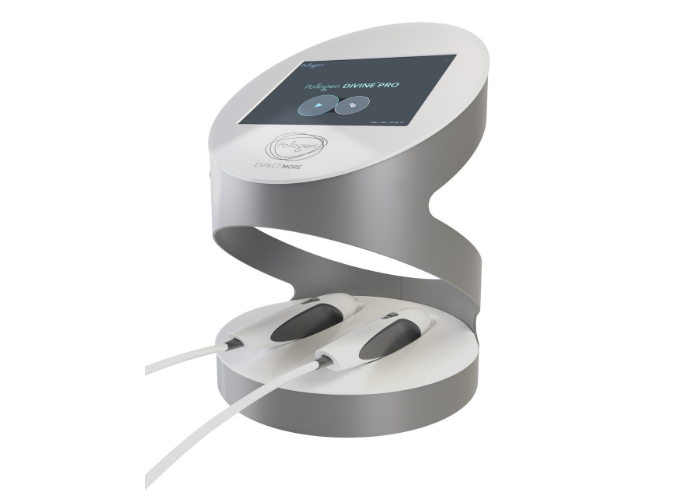 Divine Pro
Divine PRO is unique in that it unites three proven aesthetic technologies into the one sleek desktop platform.
These technologies can be performed as individual anti-ageing treatments, or combined to intensify the overall skin rejuvenation results, depending on your patient's skin condition, and their desired treatment objectives.
Call AU
1300 655 013

, NZ

0800 398 749


or click here for a free, no obligation quote
Download our complimentary
2019 Technology Guide
Take your skin rejuvenation treatments to the next level 
Divine PRO utilises 3 separate technologies to deliver advanced skin rejuvenation and skin correction services:
VoluDerm – utilising micro needles in conjunction with radio frequency energy to renew the epidermal layer of the skin and regenerate the dermal layer. Voluderm is ideal for those wanting to reduce fine lines and wrinkles, improve skin elasticity and skin texture.
TriFractional – using minimally invasive pins to treat the epidermis and improve skin texture, tone and clarity.
Excellent for renewing complexion, TriFractional not only addresses signs of ageing but is ideal for addressing acne scarring.
TriPollar with DMA – utilising radio frequency energy, TriPollar skin tightening achieves both immediate and long-term skin tightening results including a tighter, plumper and more contoured appearance. This technology also accelerates lymphatic detoxification.
Best Price Guarantee* Call Today!
The many benefits of Divine PRO
Improve your skin texture
Improve your skin luminosity
Reduce acne scarring
Reduce fine lines and wrinkles
Stimulate collagen regeneration
Improve skin elasticity
Contract collagen fibres to give you a tighter, plumper skin
Increase fibroblast metabolism to enable long term collagen remodelling
Tighten loose skin on the face, neck and décollete
Tone and contour your facial skin, emphasising your bone structure to give you a more sculpted look
Improve blood circulation for better oxygenation and detoxification
Beauty Equipment Sales and Financing
Call our team of experts now on AU 1300 655 013 or NZ 0800 398 749 and let us help tailor a custom made solution to suit your individual business and budget.

The Global Beauty Group Best Price and Quality Guarantee
Experience our fully comprehensive and personalised customer service and see for yourself why The Global Beauty Group is Australia's premier aesthetic beauty equipment supplier.
Call us now for a free, No obligation quote on AU 1300 655 013, NZ 0800 398 749