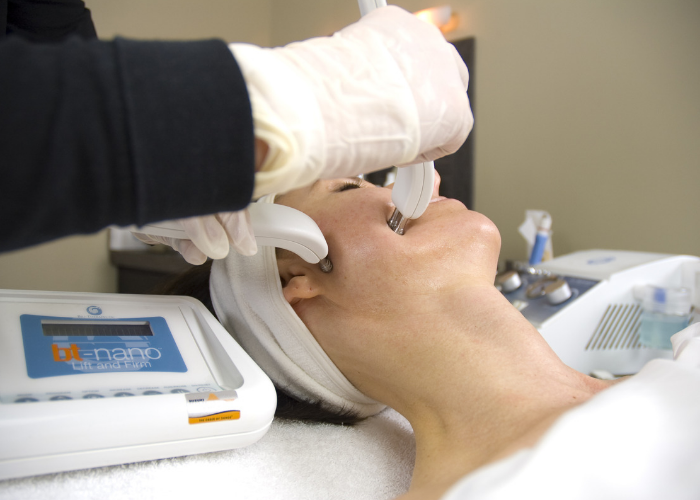 Microcurrent
Microcurrent is a low level of electrical current that mirrors the body's own natural current.
These tiny microcurrent impulses trigger chemical reactions at a cellular level to enhance the product of natural collagen and elastin, provide circulatory benefits and work directly on the nerves and muscle fibres. The result is visible firming and smoothing of the skin with more tightening and toning increasing with every treatment.
The intended use for microcurrent is to provide aestheticians a powerful and effective tool to address the signs of ageing by diminishing the appearance of fine lines and wrinkles, improve the texture and appearance of the skin, and reducing the overall visual appearance of ageing.
Call AU
1300 655 013

, NZ

0800 398 749


or click here for a free, no obligation quote
Download our complimentary
2019 Technology Guide
Bio-Ultimate Platinum 
The ultra-professional Bio-Ultimate Platinum™ microcurrent system comes with 15 different microcurrent facial options which work to lift and contour ageing skin, invigorate circulation and eliminate fine lines and wrinkles and is among the most powerful non surgical anti-ageing tools available to beauty businesses today.
Patented Suzuki Sequencing™ equips skin therapists with an unsurpassed performance and research-driven approach to anti-ageing services that will garner visible and long-term results for your clients.
Top Benefits
Re-educates muscles to a more youthful state
Invigorates blood circulation and lymph flow
Iontophoresis: enhances depth of product penetration
Increases production of collagen and elastin
Increases protein synthesis, gluco neo-genesis and membrane support
Increases mitochondria activity and adenosine triphosphate (ATP)
Disperses hardened collagen for improved skin texture
Best Price Guarantee* Call Today!
bt-Nano™
The bt-Nano™ represents the latest breakthrough in microcurrent technology known as Suzuki Sequencing. Culminating with over 30 years of research and development, Suzuki Sequencing pinpoints the optimum electrical combination outputs that are statistically most effective for:
Facial contouring
Increased circulation
Increased production of collagen and elastin
Increased product penetration
The bt-nano™ equips skin therapists with professional, clinical grade microcurrent equipment at an affordable, entry level price.
Both established and beginner microcurrent facialists will enjoy the user-friendly digital pre-set treatments and complete treatment accessories kit which includes everything you need to deliver high-tech face and hand rejuvenation services
Beauty Equipment Sales and Financing
Call our team of experts now on AU 1300 655 013 or NZ 0800 398 749 and let us help tailor a custom made solution to suit your individual business and budget.

The Global Beauty Group Best Price and Quality Guarantee
Experience our fully comprehensive and personalised customer service and see for yourself why The Global Beauty Group is Australia's premier aesthetic beauty equipment supplier.
Call us now for a free, No obligation quote on AU 1300 655 013, NZ 0800 398 749