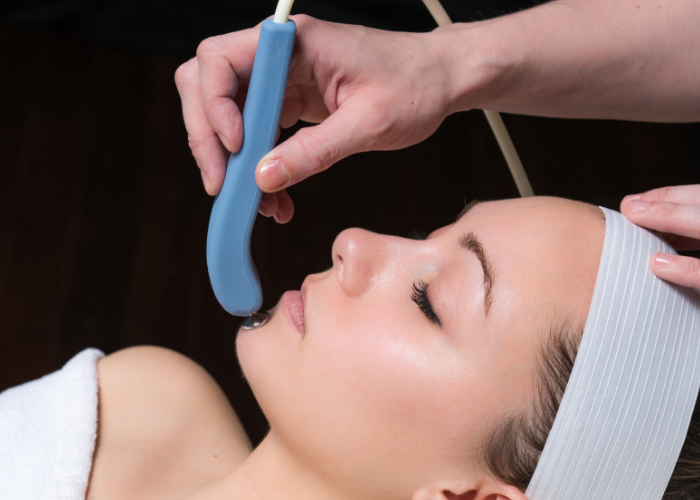 Oxygen Facials
Oxygen Facial machines are becoming more and more predominate in leading salons, spas and wellness clinics in order to meet the demand for comprehensive and deeper-working facial experiences that deliver high tier outcomes and instantly noticeable results.  Investing in a quality, multi-purpose Oxygen Facial machine enables beauty business owners to modernise their treatment menu with luxury, hi-tech facials that work to address a number of skin concerns from anti-ageing to acne and deliver a radiant and psychologically satisfying result for the client every time.
Call AU
1300 655 013

, NZ

0800 398 749


or click here for a free, no obligation quote
Download our complimentary
2019 Technology Guide
bt-Accent AIR™ 
Our bt-Accent AIR™ oxygen facial machine achieves instant results in the treatment of signs of ageing, congestion, enlarged pores and dehydrated and tired skin.
94% pure ambient oxygen delivery works alongside skincare infusions to nourish and repair for a plumped out, revitalised appearance.
These technology-accelerated or 'hi-tech' facials are specifically tailored to the client's individual skin concern to maximise the key results they are after.
The bt-Accent AIR™ offers an instant detox treatment for the skin, delivering only 94% pure ambient oxygen free of nitrogen and chemicals, deep into the skin to energise cells and enhance the skin-correcting product infusion. The facials are popular as an ongoing course of treatments to maintain a young, clear and bright complexion as well as a one-off 'makeover' selling point for clients who need a pick-me-up and instant, radiant results before a big event.
Top features
Treats an array of skin concerns with the powerful benefits of 94% pure oxygen
Offers tailored treatment protocols
Boasts oxygen infusion technology for spectacular skin rejuvenation results
Sleek, modern design with computerised switch controls for ultra-easy operation
Quiet operation ensures clients receive a calm and relaxing facial experience
Best Price Guarantee* Call Today!
Top Benefits Of Oxygen Facials
Deepens product infusion
Improves skin's firmness and suppleness
Deeply hydrates and revitalises the skin
Kick-starts circulation for an instant glow
Reduces breakouts
Plumps up sunken, dull and deflated skin
Tightens and minimises enlarged pores
Beauty Equipment Sales and Financing
Call our team of experts now on AU 1300 655 013 or NZ 0800 398 749 and let us help tailor a custom made solution to suit your individual business and budget.

The Global Beauty Group Best Price and Quality Guarantee
Experience our fully comprehensive and personalised customer service and see for yourself why The Global Beauty Group is Australia's premier aesthetic beauty equipment supplier.
Call us now for a free, No obligation quote on AU 1300 655 013, NZ 0800 398 749