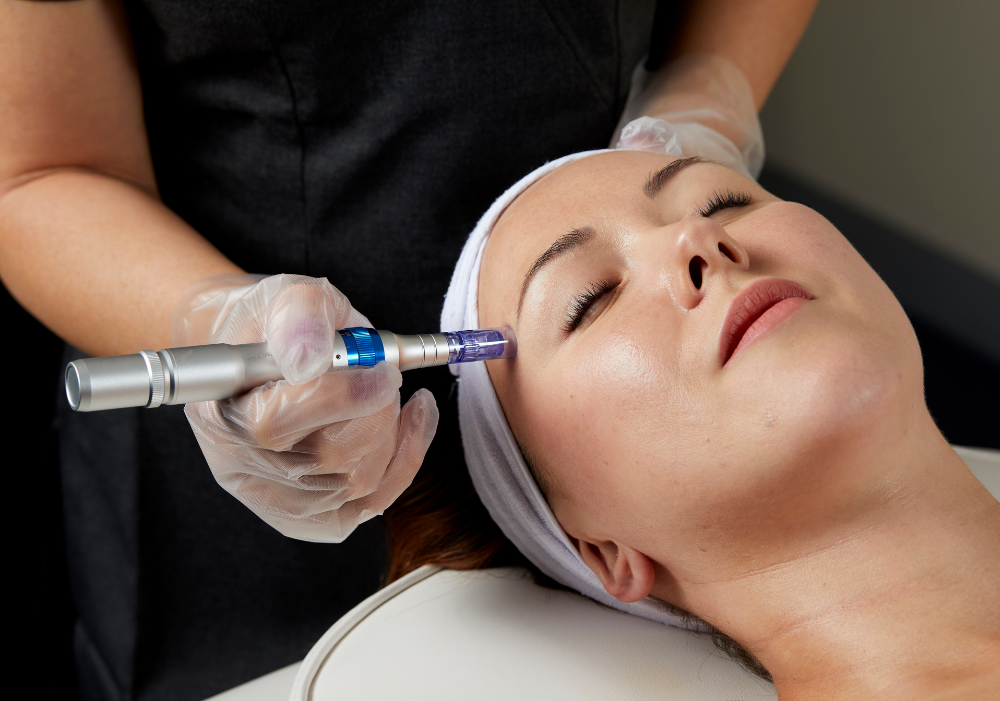 Skin Needling
Through controlled micro-injuries, Professional Skin Needling activates the skin's natural healing mechanism, producing a range of benefits which include:
New collagen and elastin production.
Reduced fine lines and wrinkles.
Improved skin texture and softness.
Reduced appearance of scars.
Enhanced skin clarity and radiance.
Call AU
1300 655 013

, NZ

0800 398 749


or click here for a free, no obligation quote
Download our complimentary
2019 Technology Guide
Dermal Pen PRO
Take skin needling treatments to an advanced new level with the Dermal Pen PRO. This mechanised fractional skin needling device features a vertical treatment head that penetrates the epidermal and dermal layers up to 2.5mm without risk of stretching and bending the skin like manual dermal rollers can.
Device features
Quality metal casing designed for optimum user comfort.
Adjustable needle length (0.25mm – 2.5mm) for tailored treatment depths.
Portable battery working mode for cord-free operation.
Continuous power mode with DC adapter.
5 speed control settings.
Uses Micro Needle Therapy System and Permanent Makeup System needle cartridges.
Quiet operation provides patients with a calm treatment experience.
Best Price Guarantee* Call Today!
Benefits Of Skin Needling 
Rapid automatic treatment head administers vertical micro-injuries, minimising trauma to the epidermis.
Adjustable speed and needle penetration allows clinicians to provide fine-tuned treatment according to the skin condition (e.g. – 2.5mm for pitted acne scars or 0.25 for sensitive eye region).
The controlled micro-injuries trigger the skin's wound healing response, promoting collagen and elastin synthesis to renew skin texture and reduce irregularities.
Treatment is enhanced when skin corrective topicals are applied, allowing the needles to drive the active ingredients deeper into the dermis.
The device can be used on the face, neck, décolleté and backs of hands.
Sophisticated engineering reduces bleeding, pain and recovery time when compared to other skin needling tools.
Encourages repeat visits with treatments spaced at 4-6 weeks to allow full cellular regeneration.
Bright Results!
Firms and volumises ageing skin.
Fills in fine lines; reduces folds and creases
Fills pitted acne and chicken pox scars with new, healthy skin.
Fades hyperpigmentation.
Improves overall skin clarity and freshness.
Tightens enlarged pores.
Reduces surgical scars and stretch marks.
Improves skin strength and resilience.
Deepens penetration of skin corrective topicals.
Beauty Equipment Sales and Financing
Call our team of experts now on AU 1300 655 013 or NZ 0800 398 749 and let us help tailor a custom made solution to suit your individual business and budget.

The Global Beauty Group Best Price and Quality Guarantee
Experience our fully comprehensive and personalised customer service and see for yourself why The Global Beauty Group is Australia's premier aesthetic beauty equipment supplier.
Call us now for a free, No obligation quote on AU 1300 655 013, NZ 0800 398 749