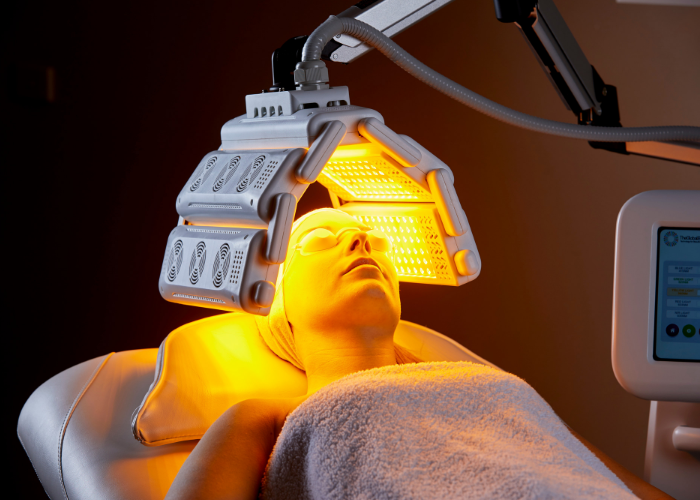 LED Light Therapy
Thanks to these groundbreaking discoveries, people all around the world can now enjoy the regenerative and healing benefits of LED light therapy which has demonstrated its effectiveness for treating a whole range of skin concerns including addressing the signs of ageing, acne clearing, redness reduction and skin tone correction.
Call AU
1300 655 013

, NZ

0800 398 749


or click here for a free, no obligation quote
Download our complimentary
2019 Technology Guide
Your Guide To LED Light Therapy
LED is a scientifically researched advanced light-based therapy used by skin and beauty therapists and dermatologists and doctors to treat an array of common skin concerns and produces great results in skin clearing and inflammation. LED therapy also offers a hi-tech facial experience for those seeking suppler skin as the cell-specific light wavelengths to target selected skin concerns.
From entry level, affordable LED machines to advanced, cutting-edge devices, we offer a range of market-leading LED machines to suit your customer's needs as well as your business's budget and objectives.
Best Price Guarantee* Call Today!
MediLUX
MediLUX is the latest evolution in complete LED technology to join the LUX Series range of clinical grade devices at The Global Beauty Group.

Researched and developed by our expert team, MediLUX delivers unprecedented service power and treatment scope — allowing clinicians to push their LED service potential higher than ever before.
With 5 LED wavelengths, clinicians can target and address a greater number of skin concerns and meet a wider range of client objectives. Treatment may be performed with a single strategic wavelength, or layered with multiple wavelengths to intensify results and implement tailor made skin correction programs for every client.
Ultimate versatility for unprecedented LED results
Blue (415nm)
Green (520nm)
Yellow (590nm)
Red (633nm)
Near-Infrared (830nm)
MediLUX boasts ultimate power output per wavelength, meaning both clinician and client can experience higher strength clinical results when compared to other LED systems on the market.
We have streamlined industry leading LED technology into a smart, portable system that integrates seamlessly into even the most space-limited treatment rooms
Bio-Synthesis LED
With easy-to-use pre-set facial settings and one of the most advanced LED designs on the market, the Bio-Synthesis™ LED system is a superior choice when it comes to upgrading your service menu with high end LED treatments. Featuring a 6-way adjustable LED panel for maximum coverage to the face, neck and décolleté, the Bio-Synthesis™ offers convenient hands-free treatment application and beautiful anti-ageing and skin-corrective outcomes.
The device utilises 4 high intensity LED lights:
which can be conveniently switched from colour to colour depending on the course of treatment required and its rapid in-built pulsing system has been shown to be vital for optimum treatment results. For outstanding facial rejuvenation results, the Bio-Synthesis™ is a sound investment for any salon, spa or clinic as it is effective on all skin types and treatment is safe, painless and non-invasive.
Benefits of Bio-Synthesis™ LED treatment
Improves skin tone and revitalises complexion
Encourages a healthier, more youthful complexion
Improves skin clarity and texture
Tightens and minimises enlarged pores
Reduces the appearance of ageing
Treats skin tone correction
Targets skin clearing
Bt-Accent LED
The bt-accent LED™ light-activated rejuvenation system is a powerful, compact and affordable LED device that works by increasing adenosine triphosphate through the delivery of hundreds of penetrating LED lights to the face, neck and décolleté.
The outcome is younger, clearer, healthier skin with a revitalised and rejuvenated appearance. The bt-accent LED™ is the ideal device for introducing advanced, hi-tech facials and clinical standard skin corrective results to your clientele.
Beauty Equipment Sales and Financing
Call our team of experts now on AU 1300 655 013 or NZ 0800 398 749 and let us help tailor a custom made solution to suit your individual business and budget.

The Global Beauty Group Best Price and Quality Guarantee
Experience our fully comprehensive and personalised customer service and see for yourself why The Global Beauty Group is Australia's premier aesthetic beauty equipment supplier.
Call us now for a free, No obligation quote on AU 1300 655 013, NZ 0800 398 749