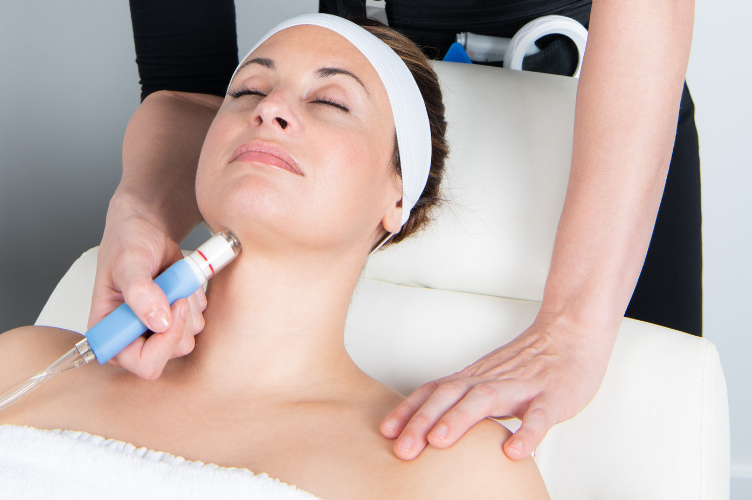 Microdermabrasion
Since it's entry into the market in the mid-80s, microdermabrasion has been gaining popularity and is one of the most-requested non-surgical aesthetic treatments in the industry. Microdermabrasion is safe, effective, and relatively affordable in comparison to traditional surgical method, which is why it's such a popular treatment. Salons, clinics, and practices around the world are opting into investing in microdermabrasion machines and with good reason.
Call AU
1300 655 013

, NZ

0800 398 749


or click here for a free, no obligation quote
Download our complimentary
2019 Technology Guide
Your Guide To Microdermabrasion Machines 
Microdermabrasion remains one of the most commonly requested non-invasive aesthetic treatments due to its instant and cumulative results which are psychologically satisfying for the end customer.
From small salons to upscale luxury spas and clinics – microdermabrasion is an affordable beauty technology investment that will work hard to generate more clientele, increase appointments and grow your business profits. And now with the next generation of microdermabrasion, called hydrodermabrasion, becoming more and more popular – it's never been easier to perform technology-accelerated facials that deliver glowing results for people of all ages and skin types.
Best Price Guarantee* Call Today!
Bio-Hydroderm Trinity
While traditional microdermabrasion technologies use aluminium oxide crystals to exfoliate the skin's surface, our most popular microdermabrasion machine, the Bio-Hydroderm Trinity™, with its wet/dry exfoliation capabilities offers the latest and most effective system available on the market. Boasting multi-faceted technology for superior results, the Bio-Hydroderm Trinity™ provides your clients with a luxurious beauty treatment experience that is designed to invigorate and rejuvenate their skin for an ultra-smooth, hydrated and youthful glow.
Top features
Combined mechanical, liquid and chemical exfoliation provides unmatched results
Ergonomic diamond-tip handpiece features 5 interchangeable abrasive discs
Completely computerised digital control system and sleek, modern design
Easy pre-programmed treatments
Instantly noticeable smoother, brighter, softer and fresher skin
Lightweight, quiet and low-energy for a calming treatment experience
Bio-Brasion
The robust Bio-Brasion microdermabrasion system utilises digitally controlled pressure and vacuum monitors to deliver consistent crystal flow and smooth, seamless operation. It works by spraying tiny crystals across the skin's surface, mixing gentle abrasion with suction to remove the dead, outer layer of skin revealing a fresher, brighter, smoother and more youthful complexion instantly. A treatment package of 5-6 sessions will leave your clients skin radiant, rejuvenated and glowing with health, providing a great way to keep happy customers coming back through your door.
Top Features
Crystal microdermabrasion technology deeply exfoliates skin and stimulates cell renewal
Gentle abrasion application is suitable for use on all skin types
Disposable accessories provide essential safety and maximum hygiene
Great treatment package opportunity – a course of 5-6 treatments will leave clients skin in peak condition and ensure consistent workflow resulting in greater profits and revenue
geneO+
In just 30 minutes, the Geneo+™ provides the benefits of three of today's most popular results-driven therapies in one powerful device;
Patented OxyGeneo™ oxygen therapy technology
TriPollar® Radiofrequency (RF) contouring and skin tightening
Ultrasound™ infusion
Beauty Equipment like the Geneo+™ not only makes providing advanced skin care services more streamlined than ever, it can virtually eliminate the need to upsell or prescribe multiple therapies to address various skin concerns. For the consumer, the Geneo+™ is nothing less than a complexion super-hero.
Beauty Equipment Sales and Financing
Call our team of experts now on AU 1300 655 013 or NZ 0800 398 749 and let us help tailor a custom made solution to suit your individual business and budget.

The Global Beauty Group Best Price and Quality Guarantee
Experience our fully comprehensive and personalised customer service and see for yourself why The Global Beauty Group is Australia's premier aesthetic beauty equipment supplier.
Call us now for a free, No obligation quote on AU 1300 655 013, NZ 0800 398 749