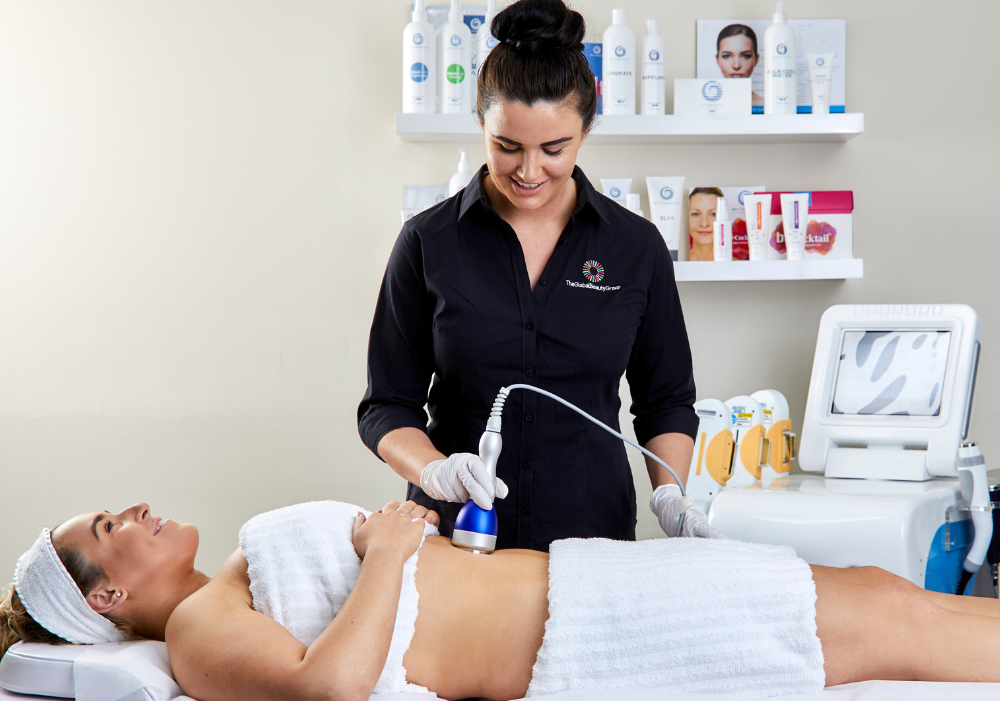 Body Contouring
Body Contouring treatments are increasing in popularity in salons, medispas and clinics as they provide busy clients that little bit of extra help to achieve their ideal body shape without the need for surgery. With solid client retention rates thanks to treatment packages, it's a great investment for beauty businesses seeking to welcome in new clients and increase their re-booking rate.
Call AU
1300 655 013

, NZ

0800 398 749


or click here for a free, no obligation quote
The Global Beauty Group
Client Experiences
Your guide to Body Contouring
Body contouring, also known as body sculpting, is a popular non-surgical aesthetic treatment designed to enhance the shape and curves of the silhouette. It is also a common treatment for tightening and toning skin after weight loss and provides a great alternative to liposuction as it is painless, non-invasive and requires no post-treatment downtime.
Address stubborn fat from key problem areas
Delivers a more refined silhouette
Treatment is painless and non-invasive (great alternative to liposuction)
No post-treatment downtime
Increases client re-bookings as best results typically require 5-10 sessions
Best Price Guarantee* Call Today!
SlimLUX
SlimLUX therapists can deliver four targeted treatments that work to:
adress stubborn pockets of fat
tighten loose, lax or sagging skin.
No surgery or downtime is required to achieve professional body sculpting and skin rejuvenation results which provide clients with a more toned, trim, smooth and youthful appearance for the face and body.  Additional benefits include new collagen formation and improved circulation to clear our toxins for an enhance the anti-ageing effect
Pollogen MAXIMUS
This treatment combines RF energy with deep muscle activation to work on the inner fat and muscle layers. RF energy stimulates the release of liquid fat in the cells while DMA gently shocks and lifts muscles. The strengthened muscles add pressure to the fat layer, increasing natural fat metabolism.
Results:
Muscle toning and lifting
Cellulite reduction
Circumferential fat reduction
Face and body contouring
UltraLUX PRO 
Our leading IPL, UltraLUX PRO boasts body contouring technology for reducing cellulite and excess fat in addition to 10+ other sought after aesthetic treatments including:
IPL Permanent Hair Removal
SHR Hair Removal
Dual-Mode Hair Removal
IPL Pigmentation Correction
IPL Skin Rejuvenation
IPL Acne Management
IPL Vascular Therapy
Ultrasound Body Contouring
RF Facial Skin Tightening
RF Body Skin Tightening
Tattoo Removal (optional)
Carbon Facials (optional)
Its ability to also perform skin tightening services makes the UltraLUX PRO the most versatile and value-driven device available on today's competitive market.
Beauty Equipment Sales and Financing
Call our team of experts now on AU 1300 655 013 or NZ 0800 398 749 and let us help tailor a custom made solution to suit your individual business and budget.

The Global Beauty Group Best Price and Quality Guarantee
Experience our fully comprehensive and personalised customer service and see for yourself why The Global Beauty Group is Australia's premier aesthetic beauty equipment supplier.
Call us now for a free, No obligation quote on AU 1300 655 013, NZ 0800 398 749