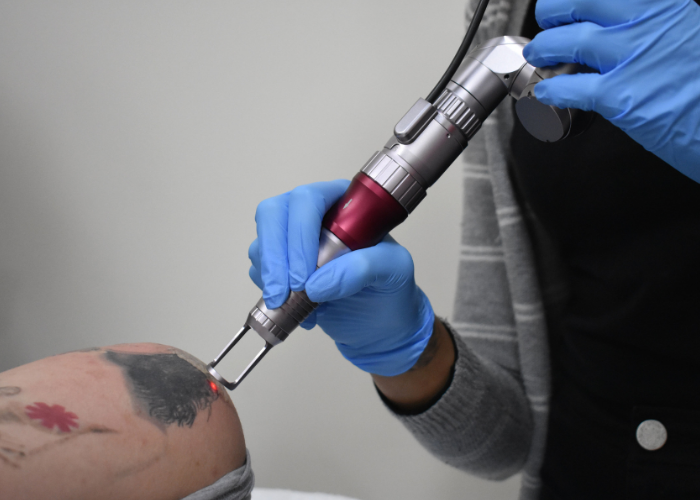 Tattoo Removal
Tattoo removal machines are fast becoming a staple on salon, spa and skin clinic treatment menus as a response to the unprecedented demand for clients seeking help with unwanted tattoos. With 1 in 4 Australians regretting they ever got a tattoo, beauty and skin professionals have recognised the opportunity to cater to this need for their own clients, while expanding their brand to reach new potential customers seeking this specialist service.
Tattoo removal laser services encourage repeat business, as multiple treatments are required to optimally remove the tattoo pigment. This makes tattoo removal a profitable venture for beauty businesses alongside other services that provide high customer retention, such as IPL hair removal and fat cavitation.
Call AU
1300 655 013

, NZ

0800 398 749


or click here for a free, no obligation quote
The Global Beauty Group
Client Experiences
TRI-BEAM
The TRI-BEAM™ Q-Switched Nd:YAG Laser is among the fastest tattoo removal lasers in the world and utilises a powerful range of wavelengths to remove everything from dark ink tattoos (1060nm) to full-colour dyes (532nm – 650nm). TRI-BEAM™ treatments are suitable for effectively removing tattoos on all skin types by targeting the tattoo pigments with beams of tailored light wavelengths to shatter the ink into miniscule pieces, which are then broken down and removed by the body's natural filtration system.
This powerful laser which is amplified by one-of-a-kind Gen Technique™ technology also functions as an advanced skin resurfacing and photorejuvenation system enabling businesses to address a number of common skin concerns with just one, value-driven and multi-functional device. Treatments with TRI-BEAM™ also ensure minimal patient discomfort and post-procedure downtime.
One machine – multiple aesthetic services for your treatment menu
Rapid tattoo removal on a wide range of inks
Epidermal and dermal pigmentation and freckle removal
Acne reduction and scarring skin resurfacing
Reduction of enlarged pores, wrinkles and fine lines
Advanced cell and collagen regeneration treatment
Tightening, toning and lifting of ageing, lax skin
Best Price Guarantee* Call Today!
UltraLASE
Powered by sophisticated Q-Switched Nd:YAG laser technology, the Ultralase is an affordable and efficacious laser dedicated to delivering professional tattoo removal services for your salon, spa, beauty or tattoo removal clinic. Like the TRI-BEAM™, UltraLASE delivers specific wavelengths of light to the skin to target a variety of unwanted tattoo inks. The rapid emission of laser light is absorbed by the tattoo pigment, which then shatters into tiny pieces before filtering and exiting through the body naturally to reveal a significant reduction or complete removal of an unwanted tattoo with a personalised course of treatments.
The Top 3 benefits of UltraLASE for your business:
Easy operation enables seamless switching between wavelengths during application
Powerful design is geared towards delivering highly effective results
Suitable for treatment on all skin types
UltraLUX PRO
Ultralux PRO is industry-leading IPL technology at its finest. This value-packed IPL Machine utilises an innovative synergy of IPL, RF energy and Q-Switched Nd: YAG laser technology to deliver spectacular results.
The sheer diversity of treatments empowers therapists to cater to virtually all of the most commonly requested treatments by clients and potential clients – meaning increased booking rates, greater customer satisfaction and a maximised Return On Investment.
Beauty Equipment Sales and Financing
Call our team of experts now on AU 1300 655 013 or NZ 0800 398 749 and let us help tailor a custom made solution to suit your individual business and budget.

The Global Beauty Group Best Price and Quality Guarantee
Experience our fully comprehensive and personalised customer service and see for yourself why The Global Beauty Group is Australia's premier aesthetic beauty equipment supplier.
Call us now for a free, No obligation quote on AU 1300 655 013, NZ 0800 398 749